Home
›
MAIN
Lights & circuits
Hi,
(excuse my english)
I have a problem with circuits in Millumin 2.18.h

I have connected my Lights to my computer with DMX device "UltraDMX Micro" (DMXKing)
In Millumin, the window "Manage device" shows me my DMX device with the green dot (meaning it's OK)
The DMX chanels of my lights are well assigned.
I have selected "DMX device" in the little window appearing when you click on the little gearing in the panel of each light.
I have checked in the "DMX Panel"/Monitor : I can control my light moving the #1, #2, #3 ...
I have grouped my lights in some Circuits.

Now, here is my problem :

When I come back to the Dashboard/Lights, I can definetly not control the intensity of my lights !
In the Panel "Circuit Sub Group" there is the name of my circuit and the intensity. That's all.
When I click and slide on the "100%" (as usual) nothing changes.
WHen I click on the "100%" to edit it and write 0%, The "0" stays but my lights are not turning off and when I select another Circuit and then come back to the first circuit, it is still at 100% !
I don't have any idea to fix this problem.
Does anyone have the same ?
Does anyone know the solution ?

Thank you for your answers ...


Capture d'écran 2017-06-12 à 18.29.55.png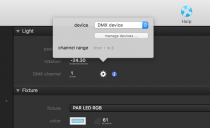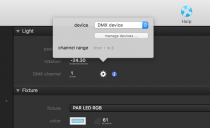 Capture d'écran 2017-06-12 à 18.30.28.png